To maintain a viable herd in terms of health and productivity, it's useful to employ a livestock monitoring solution to keep track of which cows are keeping up, and which should be culled.
Cow performance can be tricky business to predict. Some cows simply milk well and conceive easily – with or without any form of intervention. Yet other cows, even with the best management, don't produce enough milk or remain open at later stages of their lactations. Clearly, these cows create a major dent in overall herd profitability. That's why it's so urgent to identify these cows and rectify the situation – either by getting them the health or heat treatment they need, or replacing them with more productive animals. Livestock monitoring reports like those provided by the DataFlow™ II System are an excellent source of actionable information to help you, or your dairy's manager, take these steps.
Determining your break-even milk yield
Since milk production is a dairy's main driver of revenue, it should be the first criteria to evaluate an individual cow's future in the herd. To understand each cow's contribution, it's important to start by establishing a break-even daily milk yield. For example, the report below, from the DataFlow™ II System, plots the daily milk production of every cow, color-coded by pregnancy status. Blue dots represent confirmed pregnant cows, green dots are bred cows, and pink dots are open animals.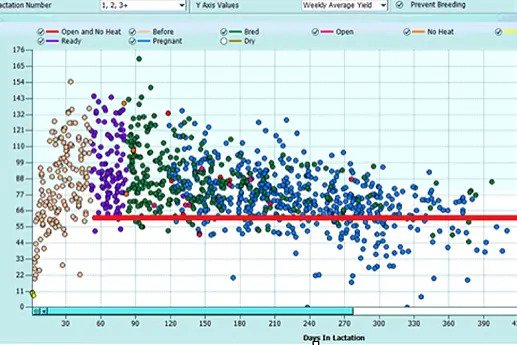 The red line shows a break-even daily milk production level of 60 lbs. And as we can see from the dots below the red line, this herd has about 100 cows below the threshold, which means they're not paying their way. Depending on the specific situation of the herd, which of course must also be taken into account, it's reasonable to assume that over the long-haul if these stats remain the same, many of these cows shouldn't be kept in the herd, even if they're pregnant, in order to improve the dairy's profitability.
Analyzing open cows
Next, let's take a look at the issue of open cows in the herd. Open cows generally fall into one of two categories:
Cows not showing heats
Cows not conceiving
Cows that have not shown heats for a period over 30 days can be found in the 'Anestrus Cow' report, which sorts cows by days in lactation.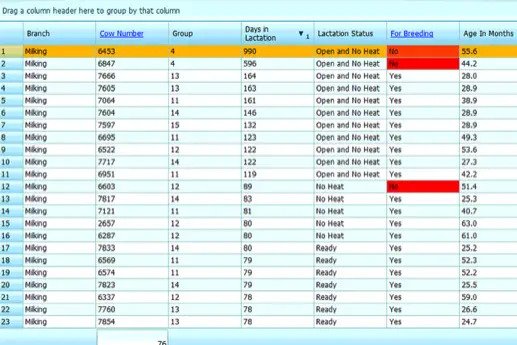 Starting with the "stalest" cow (that is, the longest number of days in lactation), evaluate each animal's condition by digging into these parameters:
Monthly average yield
Days in lactation
Lactation status
Health during current lactation
Age
With this information you can determine which cows are not cycling due to negative energy balance and which are not cycling due to health issues. By examining these cows within the voluntary wait period (VWP), you can decide on a course of action that is specific to each animal early in the lactation. This is important because making decisions sooner rather than later gives you more options for charting the best path for these open animals.
Recommendation: Run this livestock monitoring process monthly for a more profitable farm
When used together, the 'Anestrus Cow' report and the 'Lactation Status' graph provide a relatively quick and simple way to ensure herd management knows which cows are paying their way. Used in unison, they're also an effective way to identify and address potential problems in a timely manner.
Going through this process once a month and compiling a list of the top candidates for removal from the herd makes sense for the efficiency and profitability of your dairy.
Want to learn more? Interested in speaking with one of our experts? Contact us and one of our milking experts will contact you shortly
"*" indicates required fields
You may find these posts interesting as well!