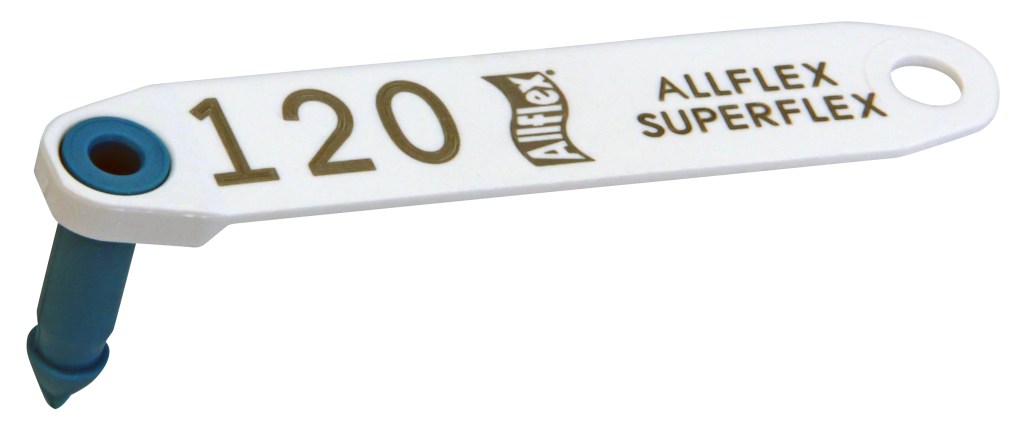 Allflex SuperFlex tags are National Livestock Identification System (NLIS) compliant for both sheep and goats. This strong robust tag is easy to apply and is ideal for matched tagging with an EID tag. They come in strips of 20 tags and are available in 10 highly visible colours.
NLIS compliant tags for livestock with a Victorian PIC number must be purchased through the Department of Agriculture in Victoria; Call 1800 678 779 or visit their website.
Benefits
Produced from specialised materials for durability
Engineered for high retention results
Unique swivel action stem to reduce infection and aid in healing
Thicker diameter and robust material reduces the chance of the tag being cut out at shearing
Sharp solid stem that won't bend or deviate at tagging
Convenience of one applicator when using as a visual tag in combination with RapIDTags and Superflex
Available printed to suit your identification purposes with alpha and numeric, one and two-line printing options
Printing available on both the male and female side
Large panel for easy reading
Dimensions
121mm (H) x 76mm (W)
Application
Applied using the RapIDTagger and RapIDMatic applicators. For application instructions including tag positioning, please download the instruction sheet under the applicator's webpage or contact us.
Orders
For more information or to order please visit your local store or distributor or contact us for details on the store closest to you.
Product Code
Colour specific. Please check individual state requirements for colour regulations.
Colours*
*This color representation may vary in real products
You may also be interested in these products