Allflex is Still the Aussie Tag of Choice with Optimised NLIS Cattle Tag
Source credit: Queensland Country Life Based on 2020 NLIS market share data, Allflex is still the tag of choice for Aussie farmers. Allflex Australia business unit manager Jane Parker said this mantle has continued to be upheld because the company continues to evolve and meet farmer's needs.
"In 2014 we responded rapidly to consumer feedback on our NLIS cattle tag in Australia and released an improved male button with an optimised design after significant research, design modeling and independent lab testing," Ms Parker said.
"Since its release over seven years ago, our latest design has demonstrated fantastic results, with no reports of tag failure or lack of retention due to failure of the male button. The high-performance of our current tag, with its improved design, has clearly been demonstrated through Australian field trials, laboratory testing and customer feedback. Allflex acknowledges there may be a small and diminishing number of older style tags still circulating in older livestock above seven years of age."
Marlborough-based Joe and Rachael Olive, Nullegai Brahmans, said pre-2014 they'd had a retention issue with the old Allflex NLIS button.
"Due to the number of tag losses I was seeing throughout my breeder herd, it prompted discussion with Allflex which lead to multiple tag trials being conducted on our property," Mr Olive said.
"In 2014 Allflex replaced the old NLIS button with a new and improved button. This new button was one of the tag trials we conducted on our property starting in 2015. That particular tag trial with the new Allflex NLIS button was very successful. I have seen the results firsthand and I'm thoroughly pleased with the improved design of the new Allflex NLIS male button."
Mr Olive said six years on from that trial, their retention rate is very high, and they continue to use Allflex tags because they have confidence in the product.
"We've stayed with Allflex as they continue to invest in research and development around maximising tag retention. Allflex's technical team have been fantastic. They've listened to my needs as a producer and have delivered solutions. I like working with Allflex as they're prepared to invest in product trials and new developments. Allflex consult with producers; they get the feedback and make improvements to deliver practical advantages on the ground."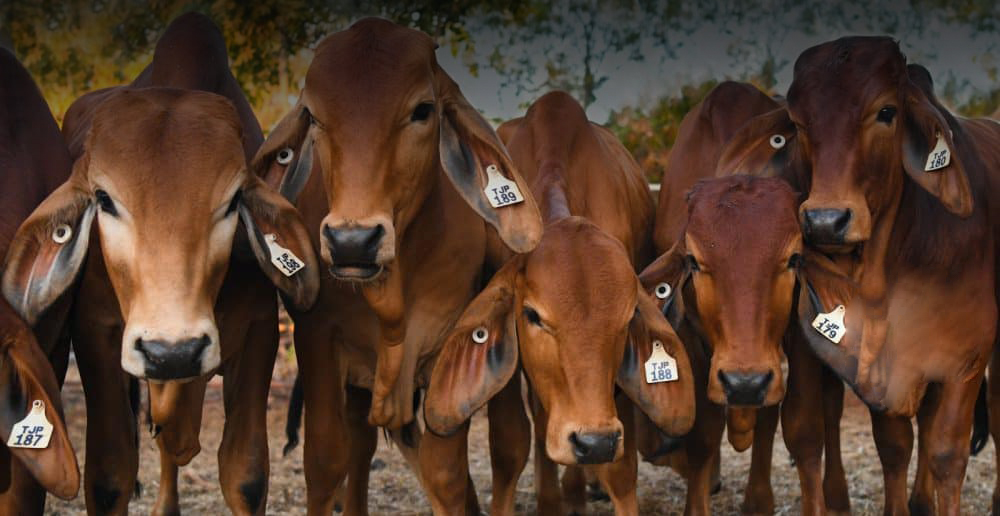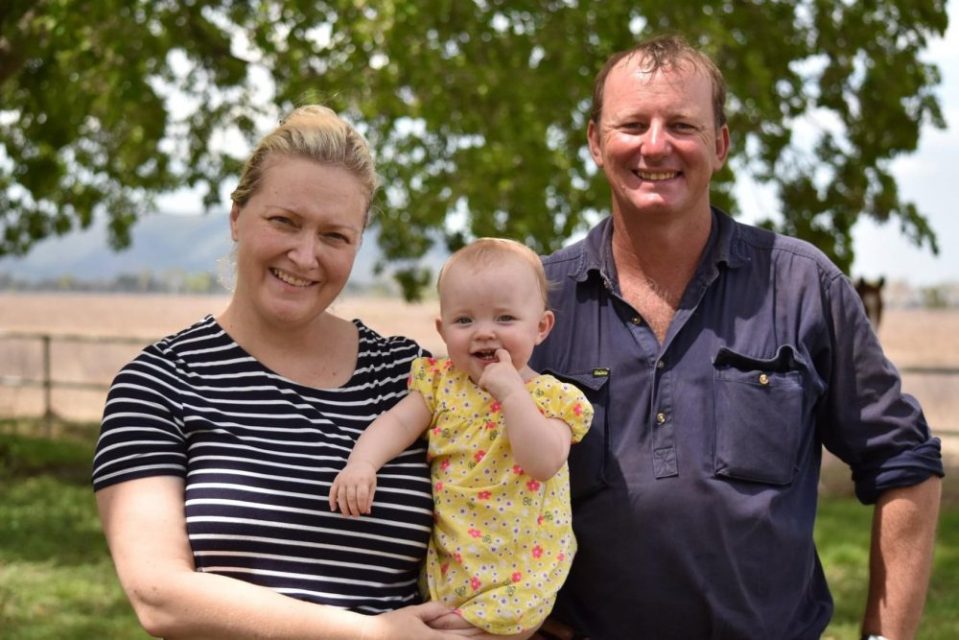 Third generation cattle farmer Glen Rea, runs close to 5500 head including breeders, bullocks and calves at Kirknie Station, Home Hill. His 28,000 hectare station is a foundation Droughtmaster stud started by his grandfather Bob Rea in 1946 and developed by his father Don Rea.
"I've worked with Allflex since 2008. Since that time, I have used NLIS tags from Allflex. From time to time I've used competitor's tags, but I keep coming back to Allflex. I believe Allflex has the best product currently on the market," Mr Rea said.
He said he has noticed an improvement in tag retention since the old days before Allflex's release of the new male button tag design.
"I found the change from the old style pre-2014 to the new design post-2014 in itself is a pretty good change. The newer button seems to last longer than the old button."
Mr Rea doesn't think any other company has a lead on retention the way Allflex does.
"Allflex is putting more effort into making their product the best in the market.
"Retention is an industry wide issue.
"Retention has so many factors involved not just weathering from the sun, heat and humidity – but mechanical damage from the torque loads the animals put the tag under; such as bull fighting, rubbing the tag up along railings, chewing and biting off other animal's tags, catching on obstructions, buffalo fly irritation and the constant whacking of ears and tails to relieve this.
"For safety reasons the tag is designed to break rather than rip through the animal's ear if it gets caught in an obstruction such as a hay bale or fence."
He said he has stayed with Allflex for as long as he has because they listen to the feedback he has provided them with, and they've then worked on solutions that work in his country that he's satisfied with.
"They're working to develop their product and make it suitable for northern Australia and North Queensland climates through trials and research and development so that users have the best quality product," Ms Parker said.
"Leveraging our R&D strength, Allflex continues to strive to be the world leader in livestock identification and traceability.
"We do this by designing products to meet our customer's needs, and by optimising our tag designs for reliable retention, with a relentless commitment for improvement, new technologies and research," she said.
Rozzie O'Reilly Crowned 2021 Australian Winner
Rozzie O'Reilly, 28, from Holbrook NSW, has an exciting year ahead of her, after being crowned the 2021 Australian winner of the prestigious Zanda McDonald Award.
O'Reilly, 28 years old, is breeding manager at LAMBPRO, Australia's largest prime lamb seedstock business. She is responsible for managing the database for over 6,000 performance recorded stud ewes, co-ordinating staff and day-to-day activities, and providing numerous client services. O'Reilly has a Bachelor of Animal Science with First Class Honours, and also runs a sheep and cattle business on agistment and lease country with her fiancé.
The annual Award, regarded as a badge of honour by the agribusiness industry, recognises and supports talented and passionate young professionals in the ag sector from Australia and New Zealand.
Zanda McDonald Award Chairman Richard Rains says "Rozzie is a warm, personable and intelligent individual. As judges, we were extremely impressed with her commitment, achievements and dedication to her role and the wider industry. She applied for the Award a few years ago, and rather than being knocked back, has since made great strides in her career, and come out on top. Her aspirations are strong and well aligned with what the Award can provide her by way of mentoring. We can't wait to see what's next in store for Rozzie, and helping to take her career to the next level through the opportunities that the award provides."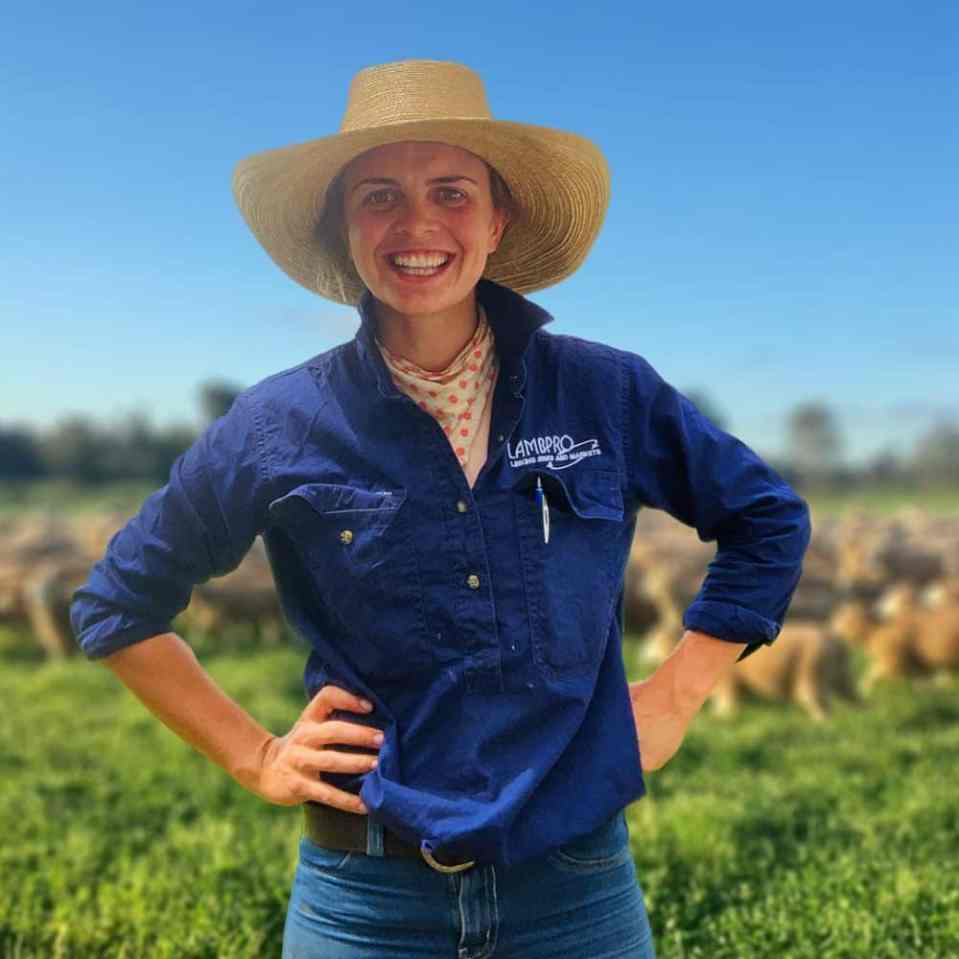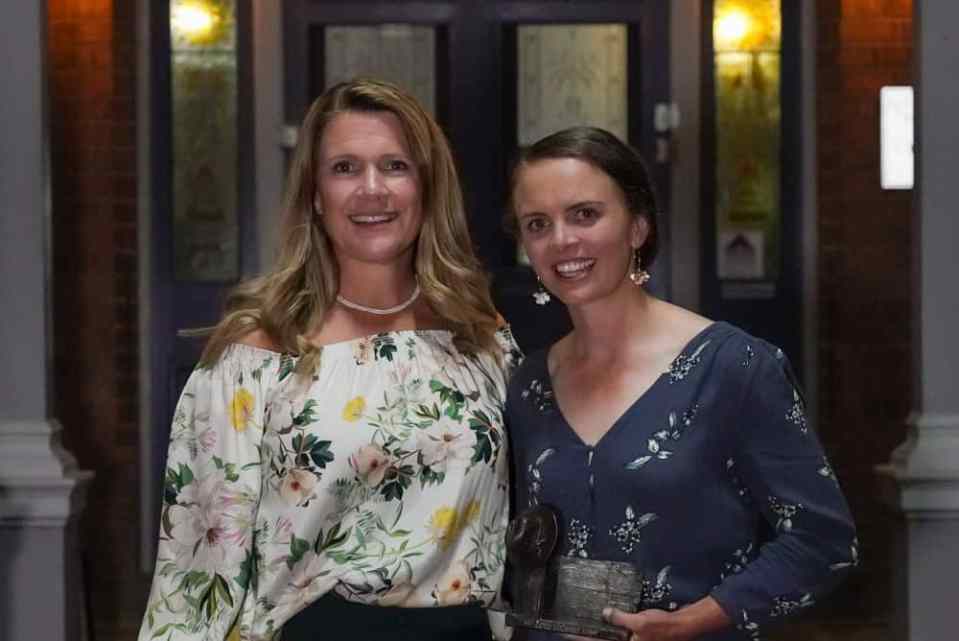 National Marketing Manager Kirstyn McKay was also in attendance at the award dinner in Orange, NSW (seen left with O'Reilly). O'Reilly was "thrilled" to receive the Award, and is particularly excited about spending time with members of the PPP Group, the network of over 150 of Australasia's influential agri-business men and women, of which Zanda McDonald was a foundation member.
"I feel completely overwhelmed and honoured to win this award. I'm really excited about the insights I'll get into some of the best agriculture companies in the industry, and how I can apply these learnings to further benefit the industry," says O'Reilly.
O'Reilly was named as a finalist alongside fellow Australians Hugh Dawson, 22, Head Stockman at Barkly Pastoral Company in the Northern Territory, Oli Le Lievre, 28, Consultant at KPMG in Melbourne and Founder of Humans of Agriculture, and Tim Emery, 35, a Technical Officer with Tropical Beef Technology Services at the Agricultural Business Research Institute in Roma.
Allflex Australia is proud to sponsor this prestigious award. Congratulations Rozzie!
Sam Vivian-Greer Crowned New Zealand Winner of Top Agri-Award in Impressive Setting
The future looks extremely bright for Sam Vivian-Greer of Masterton, who received the coveted 2021 New Zealand Zanda McDonald Award this morning, at a dawn ceremony at Whangara Farms, north of Gisborne.
Vivian-Greer, 31, is a Farm Consultant at BakerAg in the Wairarapa, working alongside farmers who are keen to improve and better their farming operations, and has developed mentoring groups to further develop farm managers and agricultural professionals.
The annual Award, regarded as a badge of honour by the agribusiness industry, recognises and supports talented and passionate young professionals in the ag sector from Australia and New Zealand. Vivian-Greer will receive an impressive prize package centred around mentoring, education and training that is 100% tailored to his needs.
Zanda McDonald Award Patron Shane McManaway says "Sam is a warm and professional person, who has a strong passion for agriculture, and is having a really positive influence on the sector. The judging team was really impressed with his dedication to his role, his leadership and spirit. We're excited to see what the future holds for Sam, and look forward to helping him carve out his path through the opportunities provided by the Award, in particular the trans-Tasman mentoring package."
Vivian-Greer was "stoked" to receive the Award. "It's a huge honour, and I'm just blown away. I'm really looking forward to spending time with top ag leaders in New Zealand and Australia, finding out more about how they tick, and how I can apply those learnings to my own career, and the ag sector."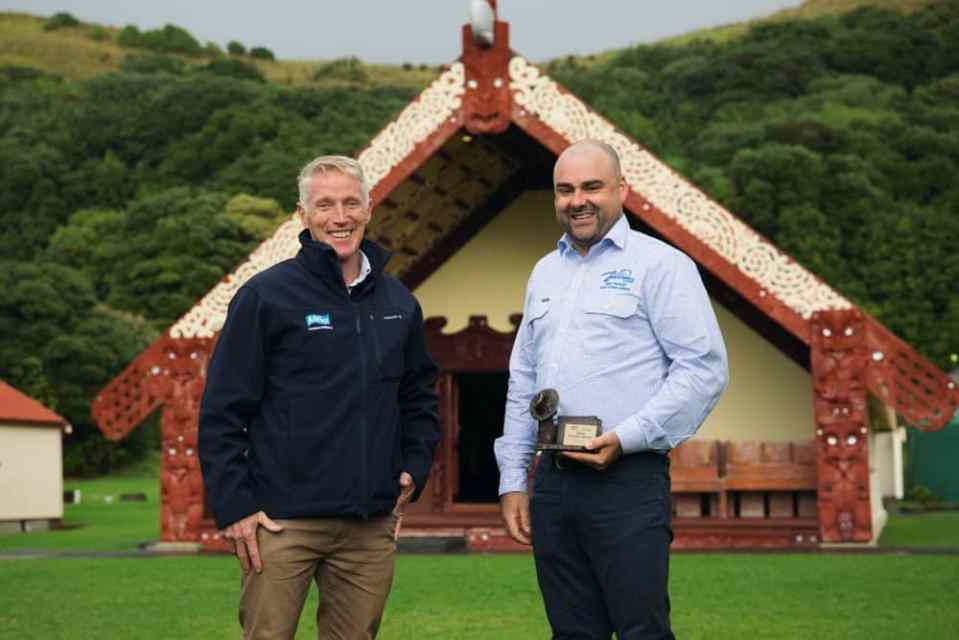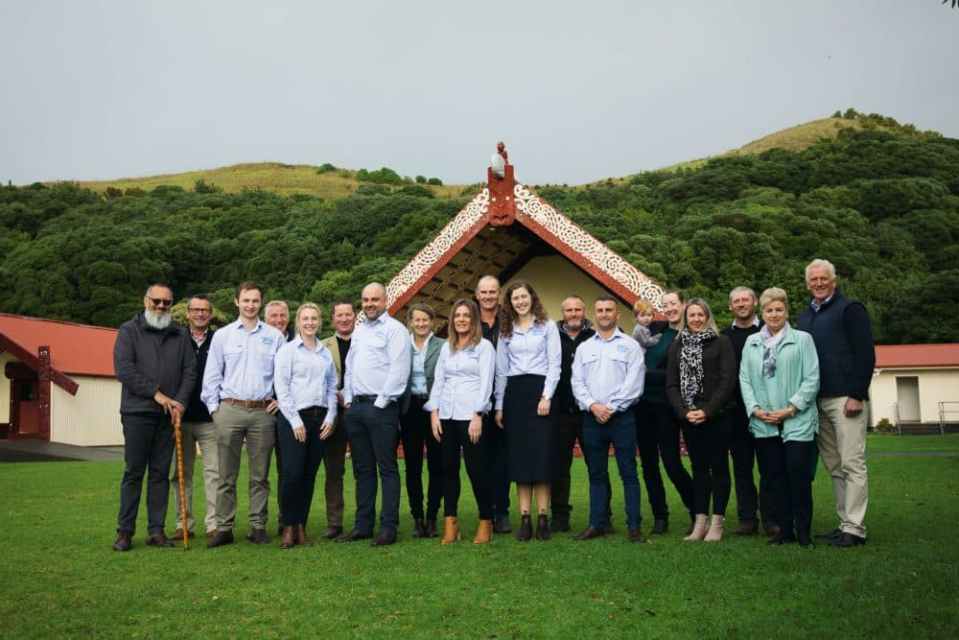 The Award ceremony was held on the beach at Whangara Farms, providing a breathtaking coastal backdrop for the proceedings. Finalists were welcomed onto the land with a karakia at dawn, before Vivian-Greer was crowned at the official ceremony.
Vivian-Greer was named as a finalist alongside Genevieve Steven, 26, a Farm Enterprise Consultant at KPMG in Ashburton; Jenna Smith, 34, Chief Executive of Pouarua Farms in the Hauraki Plains, and Becks Smith, 33, Director of The Whole Story and Veterinarian at VetEnt in Ranfurly. As part of their time in Gisborne they spent three days broadening their knowledge through intensive media training and sessions with leaders in the sector.
Vivian-Greer's professional development package includes an all-expenses paid trans-Tasman. mentoring trip to high-performing farms and businesses in Australia and New Zealand, $10,000towards further education, and incredible networking opportunities. Vivian-Greer will travel by a Pilatus PC-12 aircraft to parts of his mentoring trip, enabling him to reach diverse and remote farming operations on both sides of the Tasman.
The Award would normally crown one winner from across Australasia, but in response to COVID-19-related travel restrictions, an Australian and a New Zealand winner have been crowned this year. Rozzie O'Reilly, 28, Operations Manager at LAMBPRO, Australia's largest prime lamb seedstock business, was awarded with the Australian title in February.
Measuring It to Manage It – Improving In-Calf Rate Through Heat Detection
Third generation dairy farmers Con and Michelle Glennen, who run a 400-head Jersey herd at the foothills of Mount Noorat in South West Victoria, are saving time and increasing joining efficiencies with the Allflex electronic collar monitoring technology.
Originally purchased by Con's Grandparents Con and Maggie Glennen back in 1923, Con and his wife Michelle took over the farm in 1992 and now run the White Star Jersey Stud, with their two adult sons Jim and William.
The Glennens' Jersey herd is the number one breeding herd on the Balanced Performance Index (BPI) in Australia; an index which represents a dairy cow's contribution to the farm business across a number of metrics such as production, fertility and functional type.
In January 2020 the Glennens decided to collar the entire 400 herd for a variety of reasons including as Michelle said, "The need for an easier lifestyle, better heat detection, monitoring of animal health and improved in-calf rate," which she said, "all called for a better way of looking at cows."
The Glennens remarked that the system is a more efficient way of tracking the animals' wellbeing 24/7, compared with being required to physically inspect the cows regularly during milking; or using heat detection adhesives on the back of the cow, two or three times for every joining.
The system has resulted in significant time savings for the Glennens, which allows them time to focus on other aspects of their farming enterprise.
Having travelled extensively through Canada and the United States on a dairy industry tour, Con saw firsthand the influence of Allflex Dairy Cow Monitoring on a global scale. Con said, "We chose Allflex as they have a good reputation. We thought that herd identification, being the core business, they should get it right. SCR by Allflex is a major player in the monitoring space, with a strong dealer network and there was no bulldust."
The Glennens saw the advantages and benefits in the technology and decided to invest in the new system with what Con describes as "a view for the future with respect to the past." Michelle said the learning curve with the installation of the system, "was not difficult to learn as we have been using Dairy Herd Management software for 20 years."
The Glennens have a long-term goal to build on their herd numbers through breeding by utilising higher-value AI and sexed semen straws. Michelle commented that the system's insemination breeding window indicator will be critical in achieving larger herd numbers in the future, "Looking forward, the future of the farm will mean more cows, and being able to use more sexed semen will achieve this."
The Allflex Livestock Intelligence dairy cow monitoring solution combines livestock identification and dairy cow monitoring technology; helping decrease farming overheads such as labour, allowing farmers more time to focus on other tasks, as well as promoting the wellbeing of the animal.