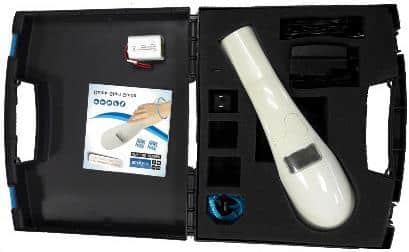 AFX-110 is a universal portable reader for RFID microchips with the purpose of identifying animals.
The device can read a wide range of technologies: FDX-B ISO, HDX ISO, FDX-A (FECAVA), Trovan and Avid Encrypted. AFX-110 can also read and display the Microchip Temperature when reading microchips with temperature sensing implants from Allflex or Destron Fearing.
In addition to its microchip reading functions, the AFX-110 scanner can store up to 3000 IDs, each associated with a time/date stamp in its internal memory, and transmits them to a personal computer via a USB cable or wirelessly using Bluetooth®.
You may also be interested in these products