Tightening the Calving Pattern with SenseHub
Mike and Caroline Hawking from Highweek Farm near Beaworthy in Devon were forced to re-start their herd breeding programme after having to split the dairy herd in two to enable two brothers to persue separate careers. They also decided to invest in a cloud-based fertility and health monitoring system to tighten the herd's calving pattern and increase cow numbers.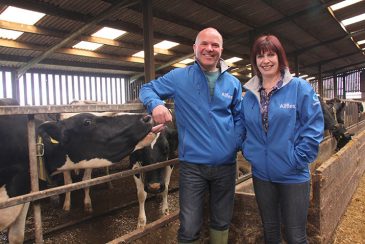 Aiming to milk 180 cows by the end of the year, and a target to cut the block-calving period from a six-month window to four, the Hawkings have upgraded their breeding system from a simple, no-tech, paper-based affair, to a modern, data-driven system using collar mounted accelerometers to detect heats and provide an early warning of any abnormal behaviour or potential signs of ill health.
"The business split meant we had no followers," Mike Hawking explains. "We bought in 40 in-calf heifers to give the herd an immediate boost but knew in the long term we'd have to improve the way we managed the herd's breeding to ensure we had enough youngstock in future years."
Mike and Caroline invested in a heat and health monitoring system: "Because Mike's brother had historically managed the herd's breeding programme, we were essentially starting from scratch," Caroline explains. "Our fertility and breeding records were ambiguous at best, so we needed a simple to use and easy to understand system. We also needed a precise picture of each cow's fertility status. We spoke to our Semex sales advisor, Steve Lee, who recommended the cloud-based SenseHub system from Allflex."
The SenseHub™ system which monitors activity and rumination via neck collars, computer software and a smartphone app and was installed in mid-October 2017, just a fortnight before Mike wanted to start inseminating. "With each cow's details entered onto the database, and a neck collar fitted the system was up and running," Caroline continues. "Within days we had an accurate picture of each cow's fertility status, and a week later the first cows were being inseminated."
The autumn-calving herd currently calves in a window between August 20th and 21st February. "By spotting more heats earlier and inseminating at the optimum timing, we're getting more cows in calf more quickly and have progressed in terms of tightening the calving pattern," Mike explains. "We aim to shave 6 to 8 weeks off the current calving window so all cows calve before Christmas. We think it's achievable within the next two years and get all cows back in calf before they're turned out in the spring meaning more milk from spring grass. It should also mean fewer problems trying to get pregnancies when the diet is changing from a TMR ration to a grass-based diet."
Mike likens the SenseHub system to having an added pair of eyes on the farm. "It's like having an extra herdsman who can reliably and accurately tell me when each cow is ready to be served and when they are feeling below par."
"The app on my phone tells me which cows need serving or inspecting for health issues. It even tells me the best time of day to serve each cow. I typically opt to inseminate at between 10 and 15 hours into the indicated 30-hour heat window. That's a lot later than I'd previously have dared, but it's a strategy which is working well as we're getting more cows back in calf more quickly. We're also using 10-20% less semen. Because we're confident each straw has a higher probability of success we're using more sexed semen from bulls which were previously beyond our budget."
The new way of managing the herd is also less time consuming explains Mike "On the days when there's just me on the farm, it can be difficult to find enough time to watch for bulling cows. And with two young children that I'd like to spend time with away from work, it is a relief to be able to get on with the daily bedding, feeding and milking routines knowing that the herd is still being monitored even if I'm not physically watching what's going on."
Interested in seeing what SenseHub can do for you? Fill out the form below for someone in your area to contact you.