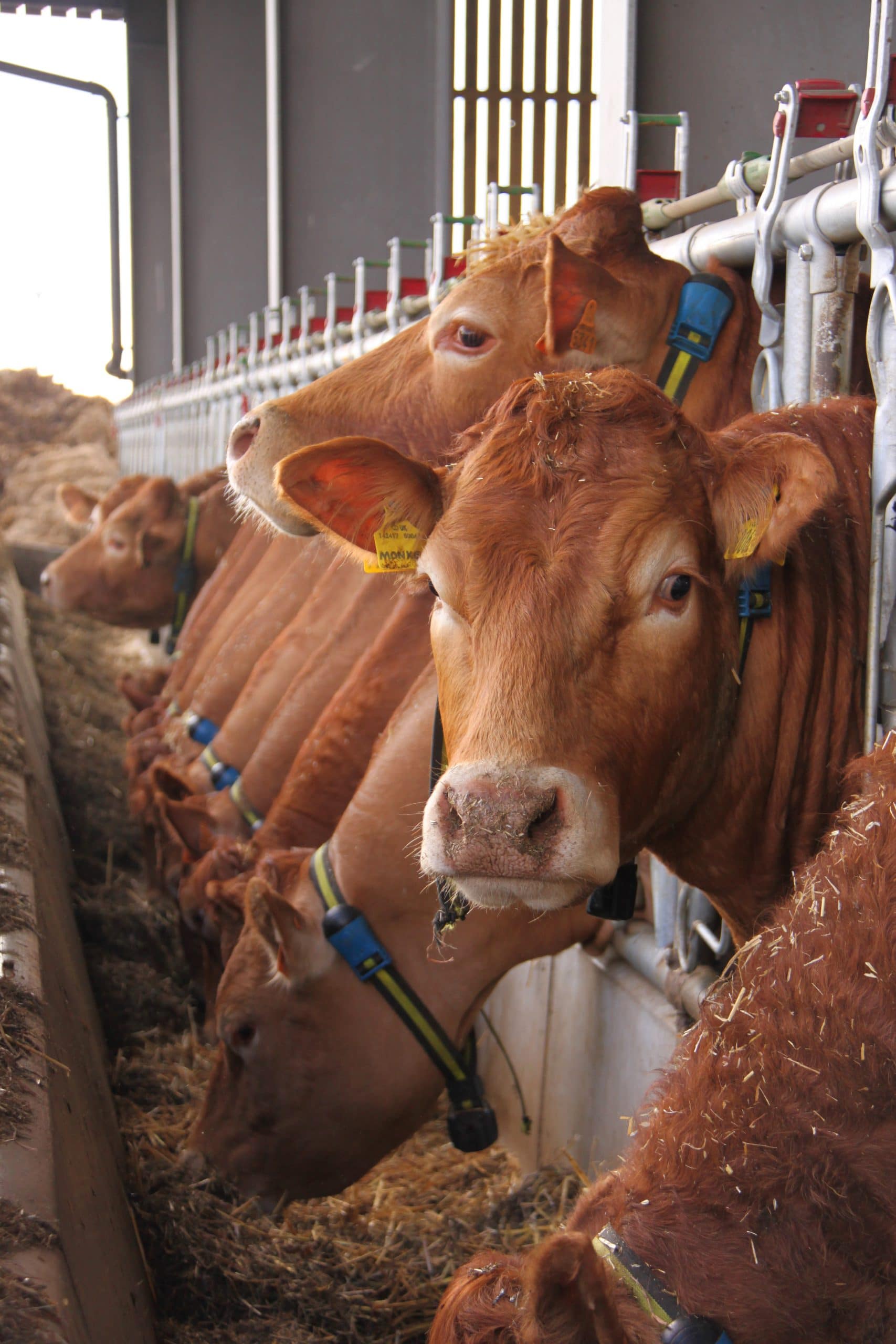 Fertility Focus Enhances Limousin Herd Performance
For the Blenkhorn family of Elder Farm in East Yorkshire, the ability to produce pedigree Limousin calves in two defined calving windows is key to the success of their beef enterprise, with a bespoke housing shed and recently installed fertility monitoring system both helping to maximise the herd's overall productivity.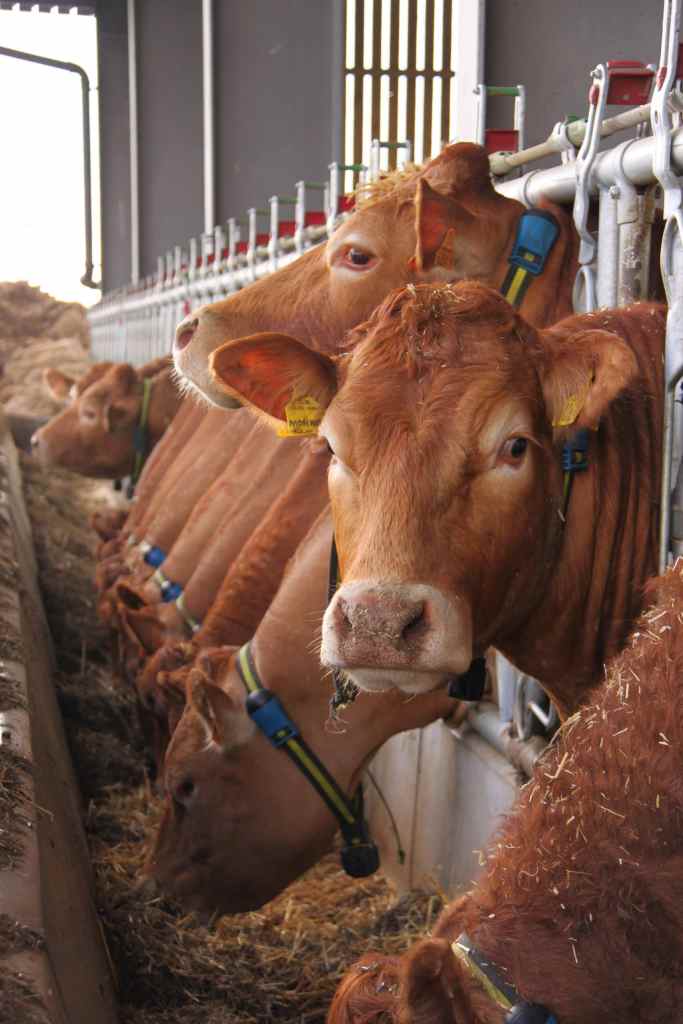 Elder Farm near Howden is home to the Elderberry herd – a family run enterprise specialising in producing pedigree Limousin bulls and females for sale as well as easy-calving Limousin semen which is exported worldwide.
The Elderberry prefix was registered in 2002: at the time the herd comprised just 15 to 20 pedigree cows, with the remaining animals being commercial crossbreeds which were the farm's focus. In the ensuing years, the herd has grown to 80 pedigree breeding cows and a total of 200 pedigree head including youngstock.
In addition to expanding the herd through their own breeding programme and purchasing breeding stock from France, the Blenkhorns have also focused on maximising animal welfare and herd productivity, recently moving the cattle into a bespoke housing and handling facility.
Completed in October 2018, the 110' by 140' cattle shed contains up to six pens with additional cow and calf pens (the enclosures are modular and can be positioned to accommodate different sized groups of animals) all of which are linked by a central handling passageway which allows cows and calves to be moved from pen to pen, or from pen to handling race and cattle crush, without the need to leave the building's straw yard footprint.
"We designed the layout of the shed based on what we liked and didn't like from visiting a number of French beef farms," explains Paul Blenkhorn. "We wanted to create an open, well-ventilated space with the flexibility to handle cattle safely and calmly. We've ended up with a square version of the Roundhouse design which lets us feed the animals at two barriers along the shed's long sides, in turn freeing-up the centre of the shed for the stress-free movement of cattle."
An overhead gantry allows the Blenkhorns to look down on the housed animals without having to enter the pens. An LED lighting system which provides 200 lux of light for 16 hours a day (to improve milk production and enhance fertility) has also been installed, as has an auto-dosing system which provides supplementary minerals via the herd's drinking water supply.
"Our emphasis has always been on producing healthy, disease-free and contented cattle of the highest possible quality," Neil Blenkhorn explains. "The new shed enables us to manage our breeding cows and youngstock to the highest welfare standards which in turn enables us to concentrate on the finer details of herd management such as fertility and feeding efficiencies."
In order to maximise the herd's reproductive potential, and to ensure all cows calve-down in one of two distinct windows, 30 SenseHub fertility and rumination monitoring collars are used to improve heat detection.
"We've historically used stock bulls and some AI to produce calves all year round," Neil continues. "We're still using two stock bulls but are now using an increasing amount of AI to tighten the calving pattern with the aim of producing a third of calves in the spring and the remainder in the autumn.
"Our aim is to increase the number of bulls we have available in the spring – when buyers are typically looking to purchase a working animal – but also to have some ready for sale later in the year. We're over-wintering more young calves as a result, which is inherently risky due to the threat of diseases such as pneumonia, but the new shed is working well to keep the straw yards dry and well-ventilated. And by using the SenseHub collars, we're gradually tightening the herd's calving intervals to create two defined groups by ensuring we don't miss any heats which could result in a spring calver slipping into the autumn group or vice versa."
Interested in seeing what SenseHub can do for you? Fill out the form below for someone in your area to contact you.
The SenseHub collars are fitted when each cow calves down so that her first heat post-parturition can be detected reliably. She will then be inseminated at her second heat, with the collar subsequently removed and fitted to the next cow once the original animal has been scanned in-calf.
"Using the collars has enabled us to reduce the herd's average transition period with some cows successfully getting back into calf a month ahead of where they'd have previously been," Neil continues. "We no longer have a problem with silent heats and haven't missed a single heat since we started using the collars. We're more comfortable using AI on a greater number of cows, even those which haven't presented visible signs of heat, and are more confident in our ability to synchronise the herd into tighter calving groups because we know each insemination is more likely to be successful.
"We use the SenseHub system to complement our stockman skills rather than replacing them, using the information the collars provide in parallel with our own intuition to make small but significant improvements to conception rates and to accelerate the herd's breeding programme."
Being able to detect heats more accurately also enables the Blenkhorns to work more closely with their customers: "The way commercial herds purchase breeding stock has changed in recent years with more farmers looking for bulls with specific genetic traits rather than relying on generic EBVs," Paul reckons. "We're selling the majority of animals privately, with several customers specifically looking for offspring from bulls with two copies of the F94L easy calving gene. We're also getting more repeat customers which means we need to produce calves more efficiently to meet demand. Being able to detect heats accurately is vital to meeting this demand and the ability to reliably use AI means we can produce stock to match the specific requirements of each individual customer."
"We genuinely want to be able to sell the right bull to each customer," Barry adds. "If a buyer picks an animal which we don't think will be right for their specific requirements, we'll try to advise them to buy an animal with suitable traits. It's a fairly straightforward business principle which has resulted in a lot of repeat business for us as well as plenty of recommendations via word-of-mouth."