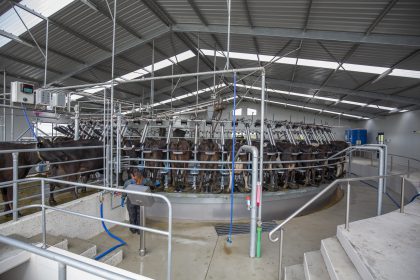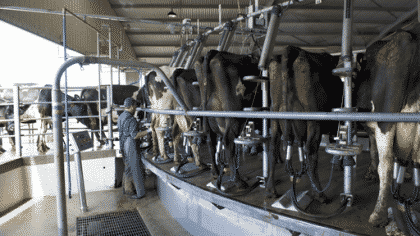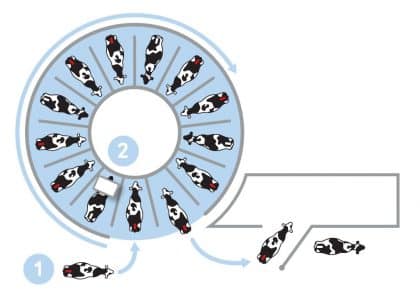 Enable real-time, individual cow alerts during milking with Protrack ID Rotary – an accurate cost-effective automatic identification system for Rotary sheds.
View live animal production and SCC results on your smart device when Protrack Milk and Protrack SCC sensors are also installed.
Full integration with MINDA allows you to configure alerts and manage rule based groups that are important to you, including:
Withholding cows
Slow milkers
High SCC
Feed groups
How Protrack ID benefits your farm
Protrack ID is a free-flow system that doesn't hinder milking time.
Connects with all other Protrack Modules:
When combined with SCC and Milk sensors, Protrack ID provides automatic and accurate recording of SCC and milk results to the identified animal and offers production and animal health reporting to support treatment, dry-off and culling decisions.
Full integration with MINDA means that each animal is identified automatically and full animal information is just one click away.
When combined with Protrack Feed, Protrack ID enables you to target each animal with their individual recipe and correct portion of feed automatically.
Real time event recording with MINDA allows you to optimise your herd recording, without the need to use a whiteboard or notebook.
Reports
Several reports are included to support day to day operations including:
Bulk cell count
Milking plan
Milking summary
Animal health
More detailed reporting features are available via MINDA.
How it works
Animals are identified by the EID reader once they are in the bail for milking.
Your compatible device and/or Pit PC is updated with the cow number in the position. Any alerts related to that animal are displayed to you.
Audio alerts notify you of animals with a high cell count, that are in withholding, or any other alerts that you set.
The antenna hangs approximately 1.5m from the ground and can be adjusted for height depending on your animal size.
Download Protrack ID Rotary Product guide
Price
* Prices include installation but exclude Protrack installer's travel and the cost of an electrician and engineer to complete work in preparation for installing Protrack.
All product licence fees are charged on an annual basis and cover continuous software licensing, on top of initial hardware purchase. Future software upgrades are provided. We send this as soon as it is ready for use.
12 months interest free or 5-year payment plan. Minimum 20% deposit (non-refundable) on interest-free purchases; credit criteria and conditions apply. Refer to the LIC Group Conditions and Services Rules.
View live animal information on your smart device
Enable real-time, individual cow alerts during milking.
You may also be interested in these products