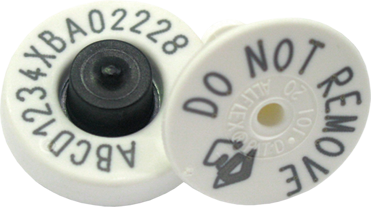 Australia's Favourite Tags,¹
Trusted to identify more Australian cattle than any other tag.
Allflex Electronic Identification (RFID) cattle tags are National Livestock Identification System (NLIS) accredited and are used as a breeder and post breeder device, to identify cattle of all ages and types within Australia.
Features and benefits
Fast, Easy Application with three applicator styles available to suit your preference.
Reliable Readability, the long-read distance works in a variety of cattle handling systems throughout the supply chain from farm to abattoir.
Excellent Retention, designed for durability.
Independently lab tested and verified
Australia's #1 NLIS Cattle Tag¹
NLIS accredited.
Dimensions
30mm in diameter
Application
The Allflex RFID cattle tag can be applied with UltraMatic, Universal or Identiplier applicators. For application instructions including tag positioning, please download our instruction brochure or contact us.
Marking requirements
Externally marked with a 16 character NLIS Number:
ABCD2345 – PIC (Property ID Code)
X – NLIS Code to identify Allflex as the manufacturer
B – NLIS Code to indicate device type (B = Breeder and E = Post Breeder)
G – Year of manufacture code as well as BREEDPLAN year code
Year codes 'O' or 'I' are not used
00001 – Unique Management Number. The producer can specify this number sequence; first character can be alpha or numeric, numbers cannot be repeated within a calendar year.
Product Code
Female component – state specific. Please contact us for details. Male component (White): ET-001-202. Male component (Orange): ET-001-202.
Orders
For more information or to order please visit your local store or distributor or contact us for details on the store closest to you.
Colour Requirements
Breeder tags (white) must be attached by the breeder before the animal leaves its property of birth. Post-Breeder tags (orange) are attached to cattle that are no longer on the breeder's property and are not identified with a breeder device.
¹Based on NLIS 2021 market share data
Colors
This color representation may vary in real products
You may also be interested in these products