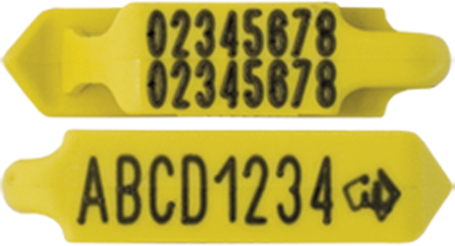 Allflex FlockTags are National Livestock Identification System (NLIS) accredited for both sheep and goats in all states of Australia except Victoria. They are available in 12 highly visible colours with extra length for large identification.
FlockTags are ideal for all sheep and goat applications of any age.
Benefits
Quick and simple application
Sits higher on the ear allowing for increased visibility
Available printed to suit your identification purposes with alpha and numeric, one and two-line printing.
Two-sided printing available
Dimensions
48mm (W) x 12mm (H)
Application
Applied using the FlockTagger applicator. For application instructions including tag positioning, please download the instruction sheet under the applicator's webpage or contact us.
Orders
For more information or to order please visit your local store or distributor or contact us for details on the store closest to you.
Product Code
Colour specific. Please check individual state requirements for colour regulations.
Colours*
This color representation may vary in real products
You may also be interested in these products