South Gippsland, Victoria, Australia
Derryvale Dairy, Australia
Background
Derryvale Dairy in South Gippsland, Victoria, Australia has been in Bruce Glasgow's family for 120 years. Originally owned by his great-grandparents, the farm has been managed by Bruce since 2008. The mixed Holstein and Jersey herd is milked twice a day. A closed herd, it has increased naturally by approximately 40 cows over the past 10 years. Production, however, has increased dramatically due in large part to better grazing management.
Challenges
In 2014, Bruce starting using outside labour for the first time, to help with milk harvesting and heat detection. As a result, "It felt like we had an increased empty rate, possibly because the labourers aren't so skilled at heat detection or identifying the individual cows – they don't know the cows as well as I do." Beyond improving heat detection accuracy, Bruce wanted to reduce manual checks of fresh cows, and better synchronize peak milk production timing with peak grass growing season. He also wanted to be more selective in culling in order to improve the quality of his herd.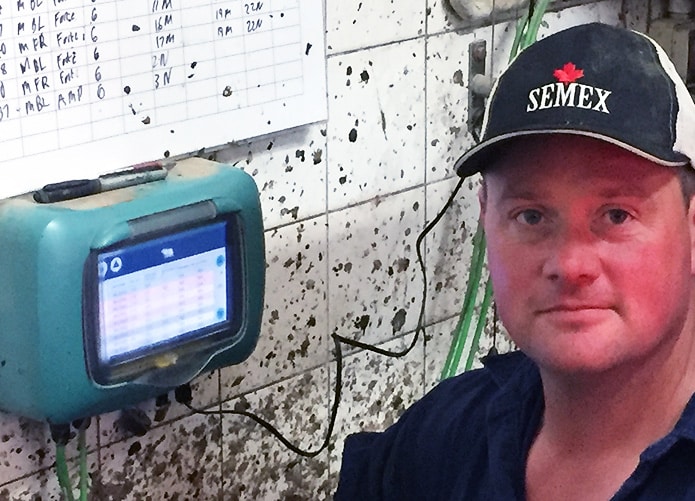 "In August, because we had so many more calves, we were 1,200 litres up per day over the same time the previous year. Percentage wise, that's nearly 20%."
Bruce Glasgow, Owner
System

The SCR Heatime HR System with HR LD tags, and a touchscreen terminal, was installed at Derryvale Dairy by Semex in June 2015. Every cow in the herd now has an SCR tag. Bruce chose the SCR system over competitors' solutions for two main reasons: "We really liked the simplicity with the touchscreen. Also, we liked the rumination monitoring for health, which is unique, and also increases the heat detection accuracy over monitoring activity alone."
Benefits
Derryvale Dairy was up and running at once with the SCR Heatime HR System. "It was very easy," says Bruce. "After a month or so, once we had data collected, Semex came back, ran through it and helped us interpret it. From there it was very simple." Whilst the SCR system is always working, Bruce uses it most during the 12-week joining period from October through to January, when he checks the Heat Report daily, and joins cows accordingly. "Even if we saw no physical sign of heat, we did the joining based on feedback from the system, and the amount of cows that actually went into calf was a lot higher." The numbers speak for themselves: The six-week conception rate has vastly improved, from 48.5% in 2014, to 57.8% in 2015. The number of cows in calf to artificial insemination is also up dramatically, from 155 to 197. By selling 15 of the extra heifer calves reared before calving at two years old, Bruce expects to see about $32,000 in additional revenues. Plus, with calves to spare, lower-performing cows can be culled from the herd, improving the quality of the herd.
We can help your story too. Learn more about who we are, or head to our contact page to get in touch.